Une autre maquette très surprenante bâtie par Scott Kapellusch!  

Ce projet a comme base le kit en résine "MACH IV '69 Mustang Dragster" de Speed City Resin.
Autres pièces ajoutés:
* Eaton G.M. 14 Bolt Rear End (2- sets)
* Firestone Drag 500 Slicks (2- sets)
(Slicks were hollowed out to fit the Monogram '29 Ford E.T. Mag Wheels)
* 10" Hollow tube Injector Stacks (4- sets used)
Modifications au modèle en résine:
* The frame extensions in the resin kit were shortened by 6".
* The rear section of the front clip was removed.
* A new firewall was made and recessed into the body.
* Front & rear bumpers were chrome plated by Chrome-Tech U.S.A.
Le "scratchbuild" effectué sur la maquette:
* Vertical frame rails from the engines back, rails around the drivers cage and roll bars.
* Cockpit aluminum side panels & floor. Tuck 'n' roll padding "hand carved" on seat & side panels.
* Interior tin (top & side panels) made from Evergreen Sheet with hand carved Tuck 'n' Roll padding.
* Center & Rear "Gear Adaptor Units". Drive shaft shroud, fuel tank, 4- finned valley pans, 4-fuel blocks.
* 2- timing covers on the Showboat dragster had the motor mounts reversed. Steering wheel mount.
* Brake handle & knob, gauges rack bracket, steering rod & drive shaft tubes.
* All fuel, brake, electrical lines, parachute cables & parachute bracket.
Le "kit donneur" pour ce projet:
Revell TOMMY IVO'S "SHOWBOAT" DRAGSTER
* Chassis (modified)
* 4- Buick engine blocks (were thinned to match the Ford small block resin heads)
* Front wheel hubs (fit into Monogram Ansen sprint 18" mag wheels).
* Rear disk brakes, 4- timing covers (1 left & 1 right side motor mount was reversed)
* Headers (one had to be lengthened). Fuel pumps, oil filters & chute release handle.
Autres pièces nécessaires:
* ANSEN SPRINT MAG WHEELS- Monogram '29 Ford Roadster Pick Up (2- kits were needed).
* The "Deep Dish" rear mags from the 2 kits were used for all 4 outer mag wheels and the
* "Shallow Dish" front mags from the 2 kits had the spokes cut out and were used for all 4 "Inner Rims".
* The centers on the front mag wheels were drilled out to fit the Showboat center wheel hubs.
* Speed City "FIRESTONE DRAG 500 SLICKS" were hollowed out to fit the Monogram '29 Ford ANSEN mag wheels.
* 4- Breather Caps - from Polar Lights F/C sprue dividers between radius rods.
* 2- MPC Funny Car Parachutes and a few other parts box items.
Pièces "Aftermarket":
* Pro-Tech - Nut & bolt heads, detail wires, fuel lines and (4)- Pre wired Vertex Magneto's.
* Detail Master - Quick Turn Fasteners.
Peinture:
* Pearl White- All body parts & Interior padded panels.
* Pearl Blue powder was dusted over all panel decals.
* Americana Acrylic "Ultra deep blue" - Seat.
* Americana Acrylic "Black" - interior of body, seat belts, holes in headers.
* Rustoleum Bright Coat "CHROME" - Cock pit panels.
* Rustoleum Bright Coat "ALUMINUM" - Fuel Tank, valve covers & injection
* Testors "METALLIC SILVER" - Valley pans, steering box & window trim.
* ALCLAD CHROME - Center & Rear "Gear Adaptor Units".
* Molotow Chrome - Headers & chrome touch ups.
Enfin, voici les photos!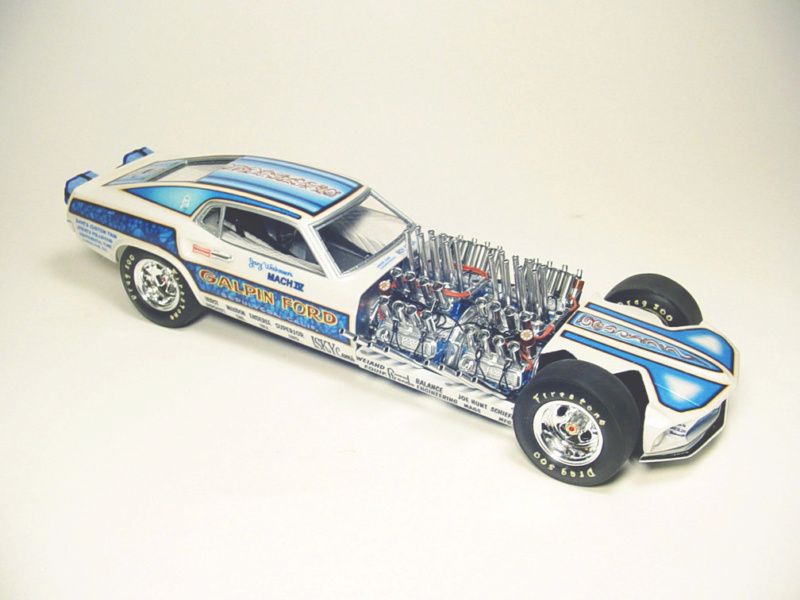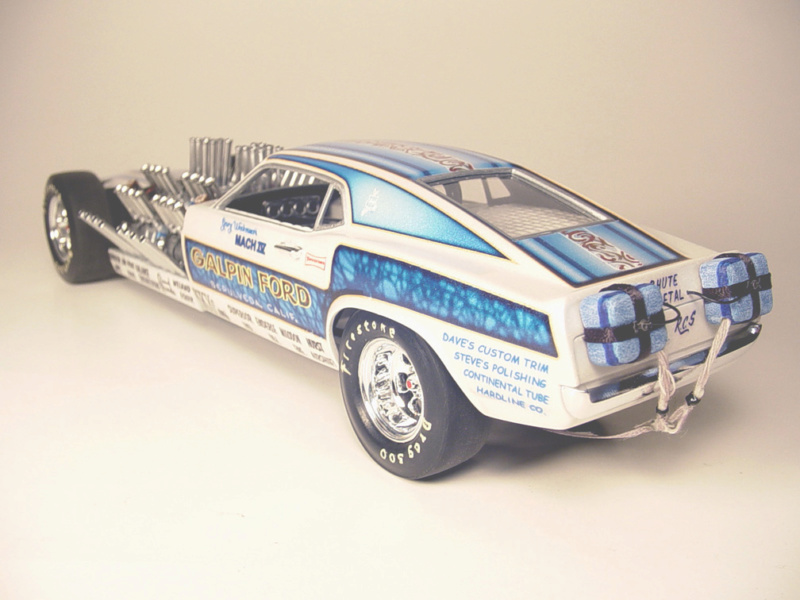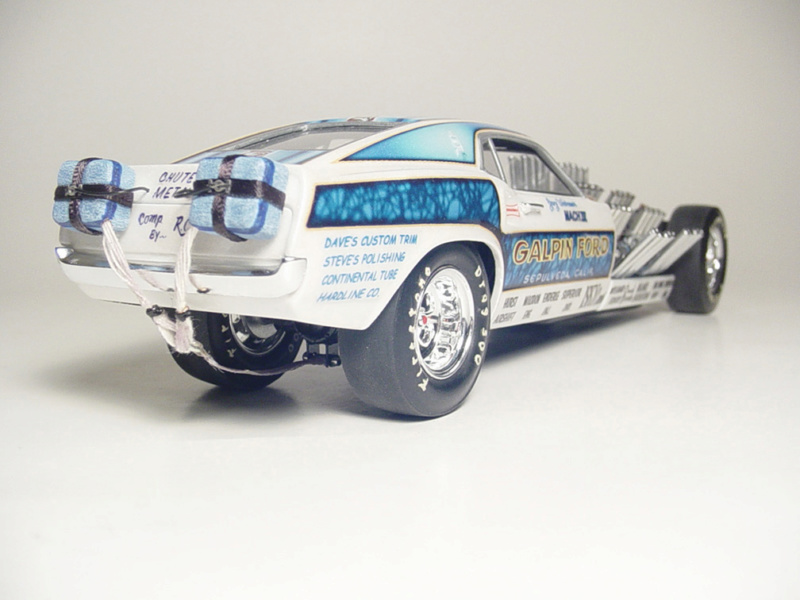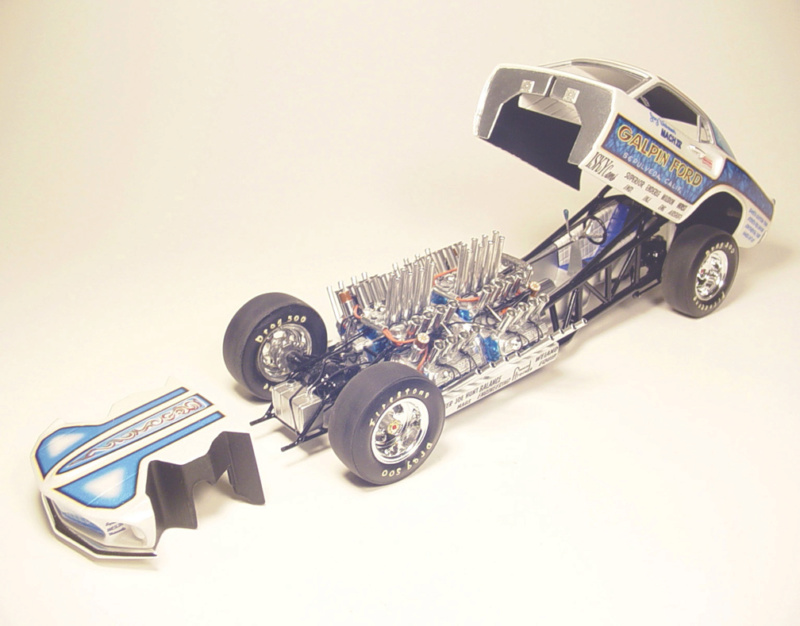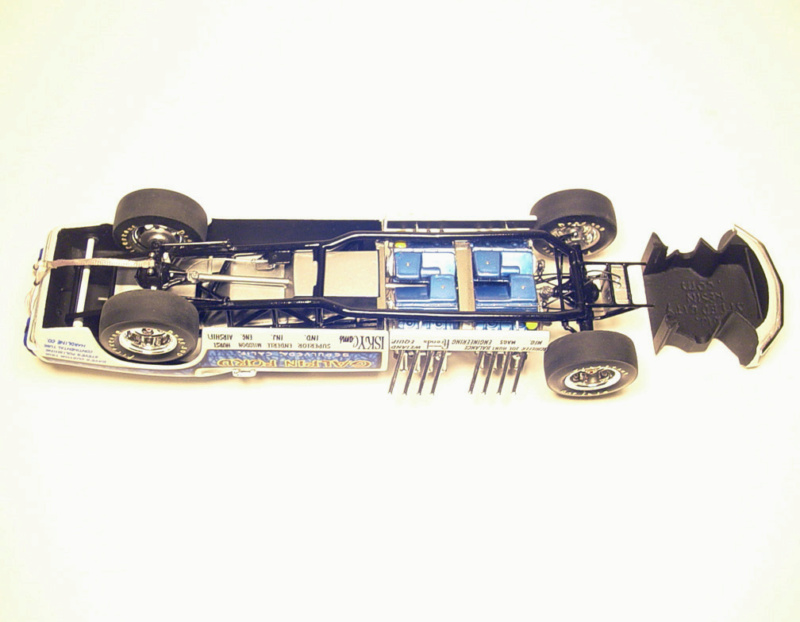 À bientôt pour d'autres découvertes!
À+

_________________
Projets (TRÈS lentement) en cours:

1957 Corvette ''Airbox'', Monogram 1/24
1970 Duster 340 (conversion) AMT 1/25
1978 Little Red Express, AMT 1/25 (GB 2016)

Musclesegue

Plastic Junkie




Messages

: 7619


Date d'inscription

: 01/09/2013


Age

: 48


Localisation

: St-Hyacinthe



Superbe réalisation, et un sujet d'intérêt. et avec tous ces moteurs apparents, un gros boulot !! bravo. 

Riviera

Skill Level 1




Messages

: 271


Date d'inscription

: 09/01/2016


Age

: 65


Localisation

: Les Salles De Castillon ( Gironde ) France




---
Permission de ce forum:
Vous
ne pouvez pas
répondre aux sujets dans ce forum